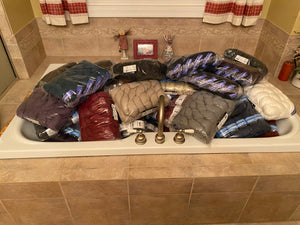 It all started in 2018, when faced with the reality that my nest was about to be VERY empty! My youngest child was leaving for college soon, my oldest child was already away at college and would likely not live in my house again and I was married to a self-employed workaholic who suggested I take my obsession with knitting and crocheting to the next level and open up a yarn shop to fill in my free time! The seed was planted and I have thought of little else since! 
After a few false starts, the stars have finally aligned and Strings 'n Things is well on it's way to opening in the Fall of this year! My shop will be located on the bottom floor of an investment property we purchased a few years ago in the village of Palmyra... it's the red brick house in front of the library with the cute front porch! I have already purchased a large part of my inventory (at one point, we had piles of yarn in every room of the house!) and we hope to finish renovations by the end of July leaving me a month or two to prepare for my opening!
I hope you follow me on my adventure... look for me on Facebook @snt2021 and Instagram at stringsnthings2021!